Last week, Unhooked Communications MD Claire Gamble spoke at Float Festival – Manchester's first wellness festival – about her experience of self-employment and running a business.
Organised by the people behind creative agency Yolk and wellness business The Vibrancy Hub, Float was created out of a frustration of "the exclusive – and often intimidating wellness culture we seem to find ourselves in". The organisers said they "wanted to create a new sphere for wellness. One that helped you actually feel – well, you know – well. Not punishable by stoning if you cross paths with a carbohydrate and/or non plant based item, or have an aversion to the gym".
Held on 22 September at the Five Four Studios in Manchester, the day saw guests enjoy a huge range of workshops, yoga, meditation, pop up shops, music, food, drink and talks. Topics and themes of the day covered everything from work to mindfulness, physical health to mental wellbeing, creativity to collaboration.
Float Festival: Ditching the 9-5 panel
Claire spoke on the first panel of the day – Ditching the 9-5 – alongside Hannah Cox from Betternotstop, Holly Wood from WeBlogNorth, and chair of the talk Catherine Asta Labbett from Girl Tribe Gang.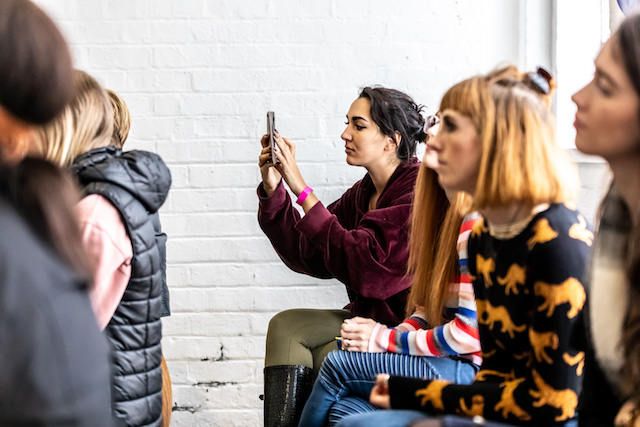 Claire, Hannah and Holly each shared their stories about how they went self-employed, including redundancy, lack of flexibility after having a baby and being sacked by a hot-headed boss. They then went on to talk about the highs and lows of running your own business, how they stay true to their values and offered advice to others thinking about making the jump from employment to self-employment.
More and more people are choosing to leave the 9-5 and run their own business or freelance, and it's a topic Claire is passionate about. Claire believes one of the main benefits is the flexibility that self-employment offers. You can fit your working life around your personal life. Instead of living to work, you work to live. This in itself offers so many health and wellbeing benefits, and the self-employment trend is sure to continue over the next few years.
See you next year at Float Festival?
A big well done to the Float Festival team. Everything from the branding (from Designed by Duo) to the varied agenda of all things wellness related was great. We really hope to see the festival run again next year and look forward to seeing it go from strength to strength.
Professional photo credits:
Fiona Fitchett:
Float Festival:
Unhooked Communications runs a support and networking group for freelancers and people running their own businesses in the creative and marketing industries. Find out more about The Northern Creative Collective here.
If you're looking for more information and inspiration about freelancing or running your own business, check out our podcast Dreamers & Doers – a podcast for entrepreneurs and business owners who dream big and get stuff done.